If you're anything like me, the anticipation of the start of a new school year can get me incredibly motivated… and incredibly overwhelmed by #allthethings there are to do before kids even walk through the door. The most daunting task is creating and editing my curriculum and subsequent lesson plans for the upcoming year. I try to always have a super clear (but flexible!) road map of everything I want all my kids to learn. But it can be super intimidating when I start to look at the HUGE pile of resources I've collected over the years.
*insert comment about being a hoarder here*
However, as time has gone on, I've found that I keep going back to the same materials again and again when it comes time for me to make those overarching plans for the year. These resources are my all-stars, the ones that I can always count on to make things a little bit clearer. (psst! click the titles to find out more about each resource!)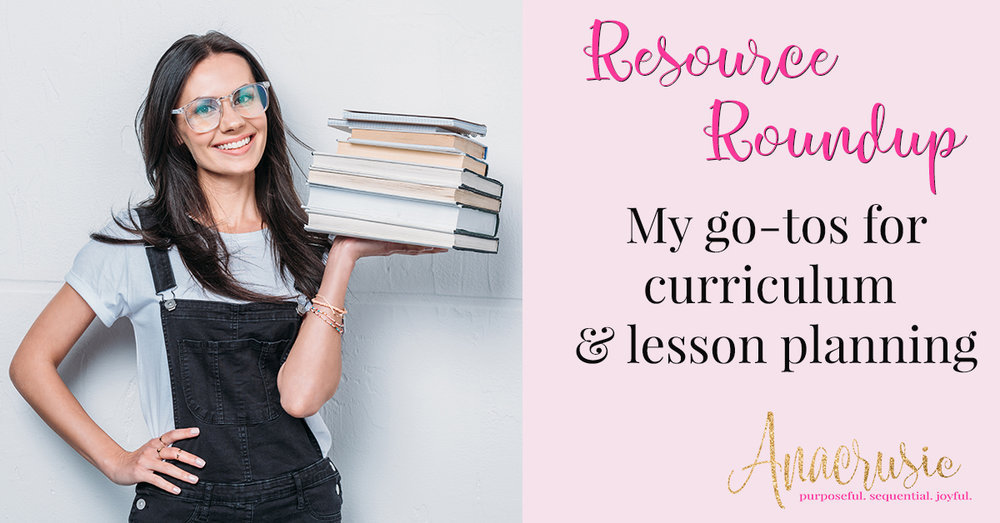 This is such a gem of a book. It's wonderful for new teachers, but also for those of us who have been in the classroom for some years as well. It's on my book list for all of my Kodály pedagogy students, for reasons you could infer directly from the title. However, if you don't consider yourself a Kodály-inspired teacher, do not run away from this book!!
At $25, this is truly just an amazing model of sequencing. No matter what your sequence looks like (and she has a fabulous one outlined in the text), and although it is very much contextualized by Kodály-inspired teaching, Klinger gives a fabulous example of how to plan long term and in the subsequent short term. Everything from prepare/present/practice, transitions, lesson segments, and much much more are included with this book. Definitely my #1 go-to for all things planning.
Let's just go ahead and get it out there that anything written by Jane Frazee you can pretty muh take to the bank. Her texts on Orff-Schulwerk are some of the most clear cut and inspirational that I have read. This particular text outlines a beautifully composed curriculum for an entire six years, complete with yearly planning and projects to help students discover rhythmic and melodic elements.
What I love most about this text are the many rich examples with different Orff-Schulwerk media (speech, singing, movement, and instruments) all within the context of a project approach to teaching and learning music. This is another one that should, without a doubt, be in your library.
This, my friends, is the Early Childhood and Kindergarten Bible.
*mic drop. We could probably go ahead and just call it good right there.*
Everything you need for your itty bitties is in this book. The concepts, the songs, the games, how to plan… it's the most comprehensive text that I can find for this young age group and I wish it existed for each and every level. Again, this is probably most accurately classified as a "Kodály-inspired resource," particularly considering the author, but I think we can all agree that good teaching is good teaching, regardless of approach.
And with this book? Your approach will be golden.
It has been a goal of mine for the past couple of years to purposefully include movement experiences for my kids as much as possible. These are both invaluable resources, and for different reasons.
I use Anne Green Gilbert's text predominantly for guidance on sequencing creative movement (obvious, right? it says it right in the title), as opposed to folk dancing. She includes discussion and lesson plans for Laban vocabulary throughout all ages and skill levels. This is so important, especially if you aren't used to structuring movement experiences for your kids. Her ideas and plans are so incredibly accessible and adaptable that any teacher could successfully implement creative movement into their classroom.
The Weikart text is my good old stand by. I've had it since my first year of teaching and it is well. loved. She also includes numerous dances for all ages and gives really wonderful examples of how to break down and process teaching a dance for children. My goal in teaching a new folk dance is to teach it like Phyllis would.
Just like I'm trying to incorporate movement experiences for my children, I'm working on being very intentional about creating active listening experiences for them as well. These two texts are wonderful. They both include specific concepts that can be explored with each piece of music, and sequence lesson segments so that teachers can both "plug and play" examples, but also take the structural inspiration and apply it to new lessons and strategies.
Listening can be intentional, purposeful, and active. These texts outline ways to get them moving, singing, and actively engaged in art music.
Last but not least, you need some stuff to teach the things. (How'd you like that specificity?) No, but seriously, I can't tell you how many times I have pulled out my own curated collection and thought, I am so sick of this song for this concept and I need a new thing. After all, you have to love a song or game or activity enough to teach it to all of your kids for many weeks on end, right?
Enter: song collections. And the reason I mentioned both of these by name is because (1) they have a lot of good stuff, and (2) they are organized beautifully for my sequence, by concept and with rhythmic and melodic content, and all the other things that my OCD structured and sequenced brain needs to be happy. Not to say that there aren't others out there, but these are two (rather inexpensive) gems that give you an amazing start to your own curated song collection.
Whew. It was hard to just pick six resources that I run to for planning. And if you noticed, I cheated just a liiiiiittle bit and added a couple doubles in there for good measure. There are so many awesome resources out there, but I can promise you that any on this list will get you off to a fantastic start for those yearly and individual lesson plans.
__________
Psst!! If you're just iiiiitching for curriculum guide type stuff, make sure you sign up for my newsletter below. There's a little something special I have in the works that just might pop into your inbox before school starts. Plus, you get access to the FREE RESOURCE LIBRARY!!