Welcome to Part III of the Sparkle & Shine BTS Series!!
This post is all about setting up your classroom in zones to make transitions and instructional time super duper efficient. You've probably already gotten into the swing of things, and most certainly have your classroom set up (with kids making music in it already I'll bet), but this post might just have a few ideas you can adapt to your classroom to run things just a teeensy bit smoother.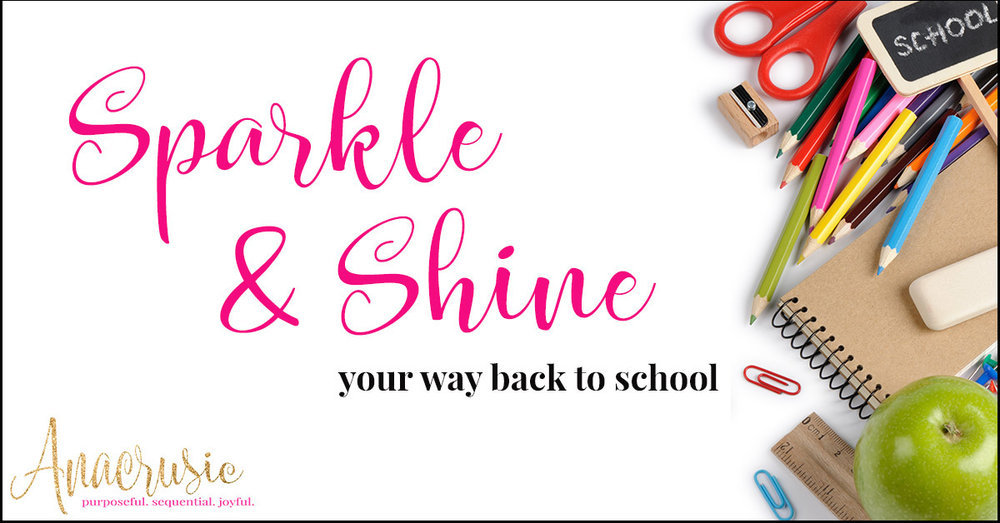 My classroom this year is a music teacher's dream. In a brand new building, I was fortunate enough to have a lot of input on what kinds of instruments and resources we would have for our students. Even though I'm on maternity leave for the first part of this school year, I was so excited to have everything set up and ready to go for my sub and the rest of the year.
Then BAM—baby girl came early.
No one's complaining here, because we have a beautiful, healthy little girl who has turned our world upside down in the most wonderful of ways. But I definitely did get my first harsh reality in the wonderful world of rookie parenting: expect the unexpected/be ready for change/be flexible with plans, etc.
All things I'm really really awesome at. (#notreally #teachermomlife #fakeittilyoumakeit)
Before baby, I did check out my new space, took a few million pictures, and made plans for how I want to use the space. All of this comes down to how I create zones in my classroom to make transitioning activities easy breezy lemon squeezy. So although you've probably already set up your classroom for the year, and taught more than a handful of kiddos by now, hopefully some of these tips, tricks, and ideas can be implemented into your music room.
(psst!! If you want to see the pictures of my space as a completely blank slate, check out this instagram post here!!)
---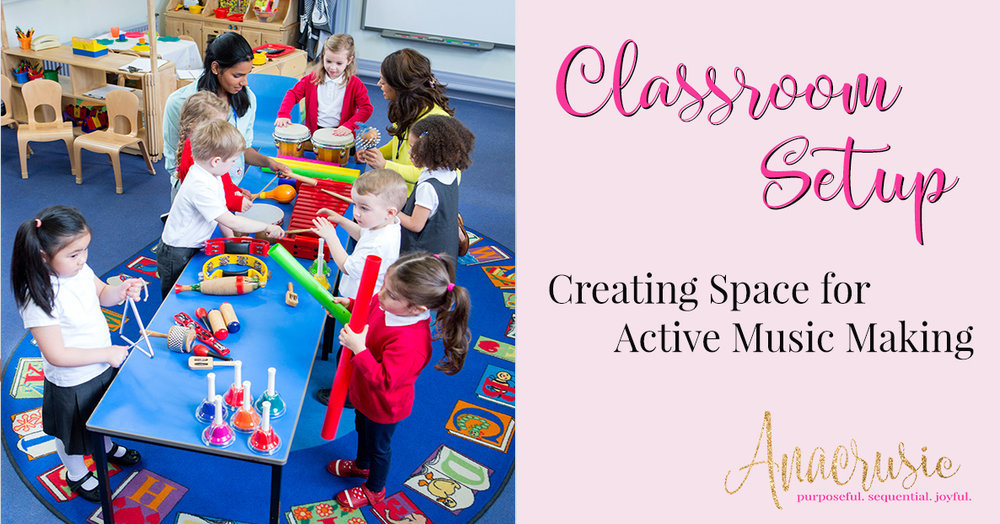 Zone 1 – Home Base
This is the place where my students know to go the moment they come in the music room. I generally don't have an activity or song for students as they enter the room, but we do get things cracking the moment they come in with an opening sequence (you can read more about that here).
For me, being at a Kindergarten-2nd Grade School, I find that sit spots are magical. I put the students in a grid formation, with color coded rows. Each student has an assigned spot and are seated boy/girl every other spot. The kids LOVE this as their whole world is all about patterns. (#kindergarten) But for older kids, I have used risers, but still have assigned spots in the same pattern
I do this the old school way with just a pencil and paper. I make sure I use pencil as there are often times I need to make an adjustment within the first couple of weeks  (prior to any assessing, usually) as I get to know the kids better, as well as who they can or can't sit next to. I usually switch up spots after each grading period, since my seating chart also serves as my assessment record. (Get your free copy of my seating chart & find out more about how I do assessment here.)
Zone 2 – Movement Zone
This is probably the easiest zone to create, because it is literally a wide open space. There absolutely positively has to be room for your kids to PLAY and make music in your classroom. This completely and totally overlaps with my Home Base, because we literally play on top of sit spots. Either we ignore them and make a circle (although I know teachers who have different colors of spots for different formations), or we use the sit spot grid to create a long-ways set, or we move in free space for a different type of activity. No matter you movement cup of tea, it's important to have an open and safe space for kids to move and purposefully play.
Zone 3 – Instrument Zone
The Instrument Zone is one that may be permanent, or temporary depending on the space you have available in your classroom. I'm talking mostly about barred instruments, but also rhythm instruments if you don't have them readily accessible to your students. I strongly, strongly recommend that you keep your instruments out as often as possible. I find that if I have my instruments put away and only get them out on certain days, I use them far and away less frequently then if they are set up all the time in the back of my classroom.
There's so many times a lesson or game is progressing more efficiently than what I expect and it's a natural extension to have kids add a simple instrument part or do a quick improvisation. If everything is put up and away, it likely takes up so much time to set up that you'll be less likely to take that extra 5-10 minutes and do something really meaningful with the time.
I generally have my instruments set up in the back of the room, and my kids know the procedures for going to the instruments. I think it's also really effective to have a system in place for students to choose instruments, to minimize arguing etc. The way I like to do that is with cards that I deal out to students letting them know what instrument is theirs for the day. The cards correspond to the different barred instruments and eliminate any arguments about who gets to play "the big one" (i.e. the bass xylophone) for the day.
Zone 4 – Stations Zone
Stations are about 4-5 different areas in the room that I have either numbered or lettered or otherwise marked for days that we might do stations. Generally when I do station activities in the classroom they are practice or extension activities for concepts we have already learned, with one of the stations being an assessment station with me. These areas may or may not include some sort of technology (i.e. iPads or other tablets), but generally are in four corners spread out across the room.
Zone 5 – High Concentration Zone/Board Work
Most all of my lessons have a portion I consider to be the meatiest, or highest concentration, where students are led to discover a new musical concept, at least in terms of music literacy. This almost always takes place (after a ton of exploration) at the board. I don't do a lot of defining this space, except that my students know to (1) get close enough to the board where they can see and focus, (2) leave room for me to walk in front of the board, and (3) make a good choice about who they sit next to.
Zone 6 – Calm Zone/Reading Nook
This is an essential zone for little ones especially. The reading nook has a rug and a rocking chair, and is almost always where I keep my puppets. This is the spot I go to when I want to sing a story to students, do some listening activities (if they don't incorporate locomotor movement) and is a perfect spot to close out Kindergarten.
Zone 7 – End Zone
The end zone is where class comes to a natural close. For younger classes, this can also be the same as the calm zone or reading nook. For older grades, I often end class where we started–in their assigned seats. Another great idea would be to have a special line up spot where students know they are to reset for transitioning back to the grade level classroom. Regardless, this is where I review learning targets for the day and have students self-assess their understanding of whatever observable skills we may have been working on.
Zone 8 – Teacher Zone
Last, but certainly not least, is the teacher zone. It is so important for you to have a place, er corner, that is your very own. Whether it is a music stand to have all your resources organized, an apron to keep manipulatives handy, or your desk that is close by, it's important to have a home base for yourself as a teacher. If you are lucky enough to have an office away from your teaching space, I really recommend that you create another, obviously smaller, kid free zone in the classroom that has all of your plans, tech, tuning fork, and other things you may need at the ready.
I hope that these different zones have given you a new way to approach the set up of your classroom. Even if there isn't much room for a distinction between different physical spaces in your music room, having different procedures in place to get in the zone will make all the difference in your transitions and overall teaching.
---
When it comes to this Sparkle & Shine BTS Series, you don't wanna miss a thing!! (Oh Aerosmith…) Don't forget, there are going to be some freebies and goodies along the way as well!! Here's a peek at all the good stuff coming up:
Part III – set up your music classroom to optimize ACTIVE music making (…scroll on up if somehow you missed it!)
Part IV – plan for the WHOLE year at a glance
Part V – IMPROVE parent communication
If you want to make sure you're ahead of the game on getting any of those freebies, make sure you're signed up to be an Anacrusic Insider below!!