Hey party people! I'm so glad you came back for more Back to School goodness to get you set with your best foot forward for the year.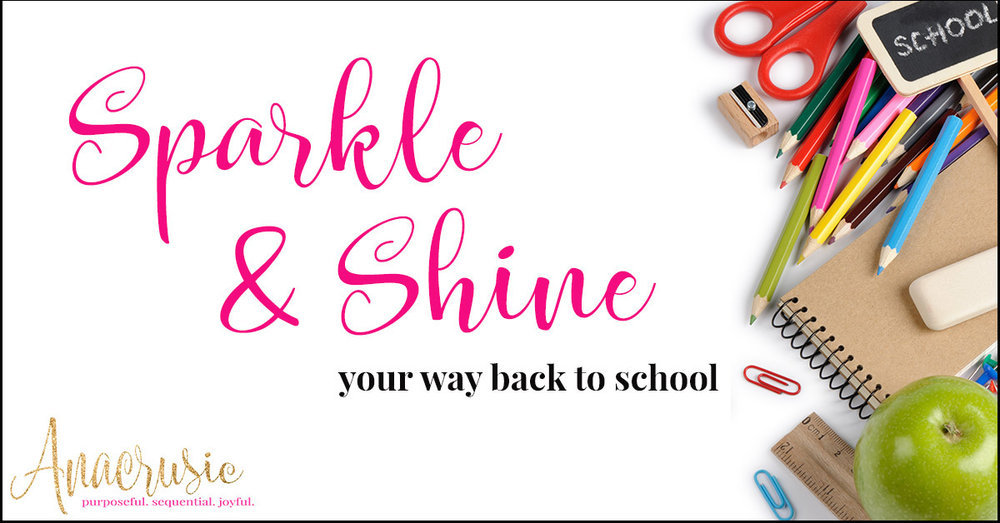 Last time we chatted about creating rules and procedures to get your year off and cooking. Today is all about taking things a step further and creating beautiful opening and closing routines in the music classroom. Let's jump right to it!!
---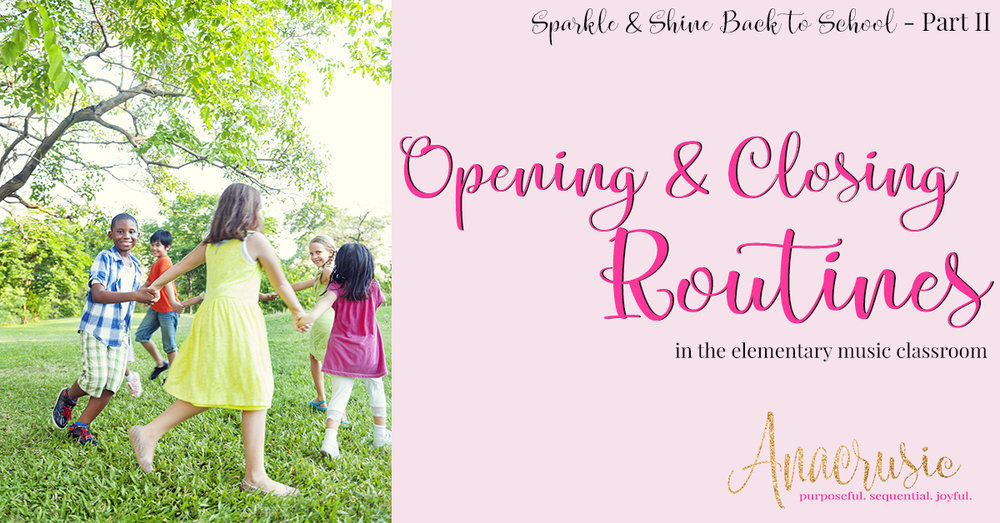 One of the most effective things that gets kids in gear and ready to go in the music room is to establish routines. I already talked all about procedures and rules, but the type of routine I'm going to talk about now has everything to do with setting the stage for active music making. Although the structure of my music lessons may look different depending on the concepts we are covering, the beginning and ending of my lessons almost always follow the same pattern.
An opening routine for Kindergarten, First, & Second Grade
I tend to separate grade levels into lower (K-1-2) and upper (3-4-5) elementary when doing overarching planning such as creating an opening sequence. For my younger musicians, I tend to keep things pretty much the same lesson to lesson, as establishing that routine really puts them in the correct frame of mind and develops focus essential for later components of the lesson. Often, my opening sequence for K-1-2 will include some or all of the following elements:
Stretches – When walking into the room, my students have practiced going quickly and quietly to their assigned seat, because the moment everyone is in the room, we start with stretches. With my youngest students, this is usually as simple as putting their hands in the air and bending over to touch their toes. I have sung instructions, which they echo back, and transition directly into the next section. Take a listen below to get an idea of how it goes: (psst!! remember this lady is a brand new sleep deprived mama!! My voice is not in tip top shape!! …not that I'm making excuses ;))
Hello Songs – I always have a few different greeting songs that I sing with my students. There are about a million out there to choose from, and a few of my favorites come straight out of the music textbook series adopted by my building. The point of this portion of the opening sequence is simply to get kids singing. Bonus if you can incorporate different movements and movement exploration within the lyrics of the song.
Learning Targets – Since the students have been engaged by both moving and singing at this point, I take a split second (like seriously, not more than a minute) to point out our learning target for the day. I have students repeat the target after me in segments, such as: "Today in Music" (repeat) "I can" (repeat) "use my voice in different ways" (repeat). My learning targets have some nifty visuals that aid in student understanding and recognition of our targets for the day. If you're looking for some learning targets, check out my Kindergarten set here & my First Grade set here.
Vocal Exploration – After singing a few hello songs "cold", I move into really getting students' voices ready to go. This always includes some sort of vocal exploration story or game. I've found that getting kiddos into the proper voice placement is almost always more successful with the use of props, stories, or some sort of visual aid or manipulative that can be used. I use these FREE Hot Air Balloon Vocal Explorations with the story Away We Go (<-affiliate link) and laminated hot air balloons to get kids voices going up into the air.
Echo Singing & Rhythmic Reading – I love to get all of my students, but especially my younger students echo singing right away in a lesson. I go back and forth between the whole class and individual students to see where everyone is sitting in terms of pitch matching and head voice. If you need some more ideas on solo singing, check out this podcast I recorded about a million years ago (seriously). For rhythmic reading, the exercises I use with my students has everything to do with where they are in my curriculum sequence. If they are in the exploration stages of a rhythmic concept, I may have them read icons, text, or even echo nonsense syllables back and forth with me without any visual cue. If they are in the practice phase, or extending material, I use challenge patterns or rhythm poison games to practice.
After setting the stage through all this rich exploration and practice, my students are ready to dive into the meat of a lesson. Although it seems like the previous lesson segments were pretty meaty in and of themselves, the bulk of my lesson is dedicated to purposefully playing and creating, where students have the opportunity to actively make music. The majority of our class time is spend in this exploration phase, with a few interjections here and there from myself to facilitate and element of musical discovery.
*Note: this entire sequence, with the exception of the lesson material, should only take about 10 minutes. Short learning episodes and smooth transitions are the keys to keep pacing up and student interest heightened. Although it seems like a lot to fit in to the first 10 minutes of a lesson (especially if you only see your kids for 30 min like me), you'll find that keeping it brief, but consistent from lesson to lesson pays out over time.
Adapting for older students
So what does this look like with the older kids? Believe it or not, not too different. The small tweaks I make are to find opportunities for those older students to be leaders, rather than consistently using teacher led instruction.  Here's what I mean:
Stretches – have a student lead silent stretches, by coming to the front of the room and taking different formations for the class to copy. If they need a visual prompt, kids yoga cards are your friend.
Hello Songs – There are so many wonderful mixers out there (i.e. Gilly Gilly Good Morning, anyone?) that older kids love. These get them singing, moving, and interacting with one another. This last part is key as it can sometimes be difficult to get the older kids to really play.
Learning Targets – Why not make this a student job? Have a student leader read the target aloud or have students think pair share on the target for the day.
Vocal Exploration – Again, student leaders are awesome for this. Have them draw or move a vocal pathway and have the rest of the students echo.
Echo Singing & Rhythmic Reading – I love challenging older students in this portion of an opening sequence. Use neutral syllables and have students decode, or challenge them with a memory game like the Clever Caterpillar Rhythm Erase.
Closing Routines – Keep it Simple
To be quite honest, I don't have an earth shattering closing sequence for my classes. I am firmly in the camp of over-planning rather than under-planning, so often times it will be time to line up when we are still playing a game or creating a new dance. However, there are a few things I would consider when thinking about the end of your lesson.
Consider a Closing Song – Even if it's simply ending with a new lullaby each time, some sort of closing song is a great way to wrap up a lesson and emphasize that it's time to calm down and line up.
Keep it Positive – If you are ending with a game, end at a point when everyone can feel good leaving the classroom. Often the last activity is what sticks with kids through the rest of the day, so I make a point to always end with one last round where everyone can feel successful.
Simmer Down – The one grade level I tend to have a closing pattern with is Kindergarten, particularly at the beginning of the year. I love to sing a story to them, because it gets things calm and relaxed no matter what we have been doing in class.
Double Dip – Choose an activity or game that facilitates lining up, like Acka Backa Soda Cracker.
I hope what you've taken away from these last two posts is that well practiced expectations and creating awareness for your students is KEY in helping them get into gear and be successful in the classroom. I hope these ideas for creating an opening & closing routine is helpful in starting your new year off right!!
---
When it comes to this Sparkle & Shine BTS Series, you don't wanna miss a thing!! (Oh Aerosmith…) Don't forget, there are going to be some freebies and goodies along the way as well!! Here's a peek at all the good stuff coming up:
Part I – FOOLPROOF classroom rules & procedures (click here if you missed the post!!)
Part II – create the perfect OPENING routine to get your kids in gear (scroll up if somehow you missed it!!)
Part III – set up your music classroom to optimize ACTIVE music making
Part IV – plan for the WHOLE year at a glance
Part V – IMPROVE parent communication
If you want to make sure you're ahead of the game on getting any of those freebies, make sure you're signed up to be an Anacrusic Insider below!!