Y'all. Can you even believe it? It's still September and we're finally wrapping up this back to school series!! (…hey, one day still counts!) I hope that this series has been helpful for you and you've picked up a couple tips and tricks along the way. This last topic is one that has definitely been tricky for me in the past, so I hope these tricks I've picked up help you!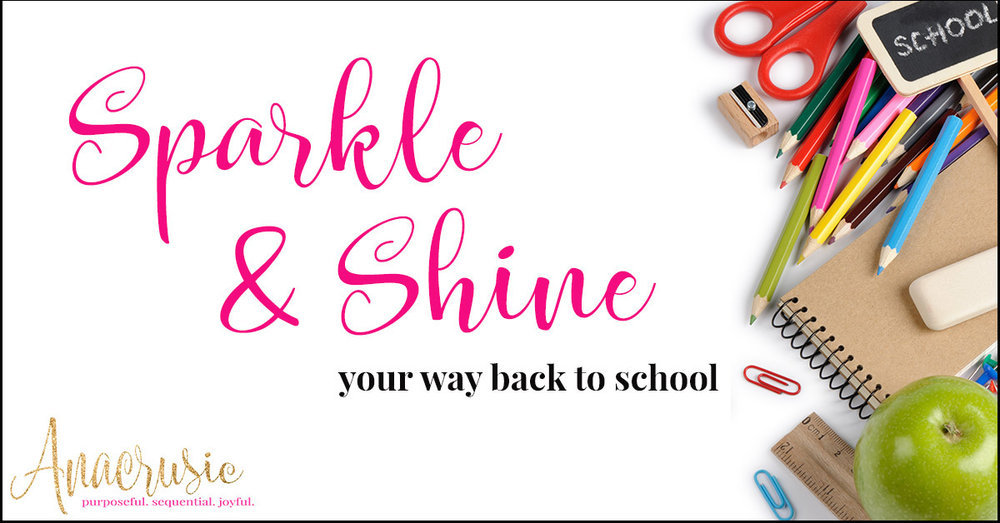 Love it our hate it, (and depending on the circumstances, it could definitely be a little bit of both!) parent communication is part of the teacher gig. And if you're a music teacher, you likely have 500 or more students, and therefore approximately 2,395,827 parents to communicate with.
And if you're liiittle passive aggressive like me, it's a total party. #not
Aside from the occasional parent contact for a problem or, hopefully more often, a total rock star day, most of my parent communication is to the masses. Here are 4 ways I keep those channels open and positive throughout the year. (Psst! If you want more info on how I do those parent contacts for the tricky kiddos, click here to check out this post.)
**Note: I understand that many students do not necessarily go home to their parents, but may be in a different home situation where they see grandparents, an older brother or sister, an aunt or uncle, or even a family friend when they head home from school. For the ease of reading (and writing!) this post, the term " parents" really means whomever is loving on your sweet kiddos outside of the school day. 🙂
---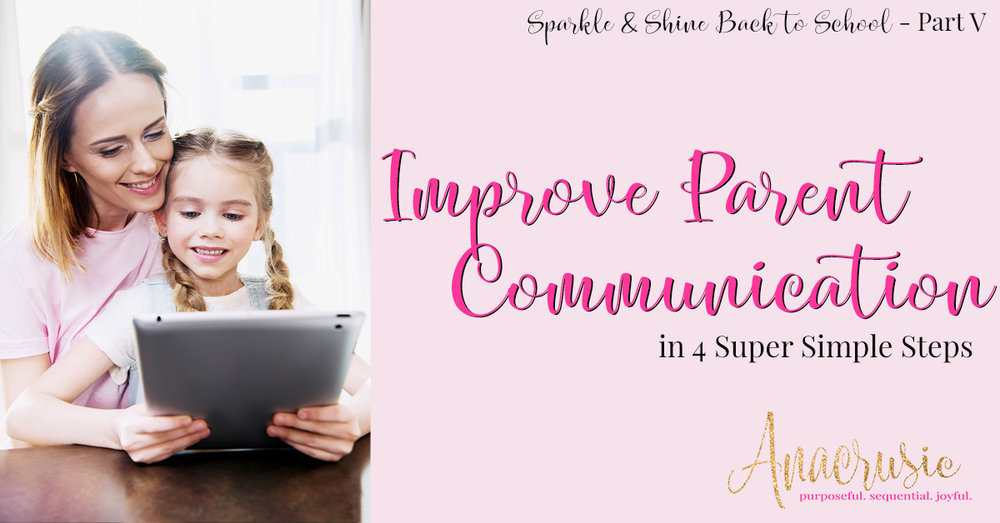 #1 – Take Home Trinkets
Although this isn't necessarily direct communication, the number one way to get parents curious as to what you're doing in the music room is to send your kiddos home with a little something special. Nothing huge that you have to stop everything to make and send home, but when the opportunity presents itself having something here or there to put in the good ol' take home folder is a nice touch.
My kindergarten students absolutely love these rhythm coloring sheets, and I get the best positive feedback from parents when they get to take them home. I think it's a refreshing surprise for parents to see something tangible come from the music room. Although worksheets are not my most favorite form of music making (…not as active as it could or should be!), seeing a piece of paper with musical concepts that kids can explain reinforces that learning happens in the music room!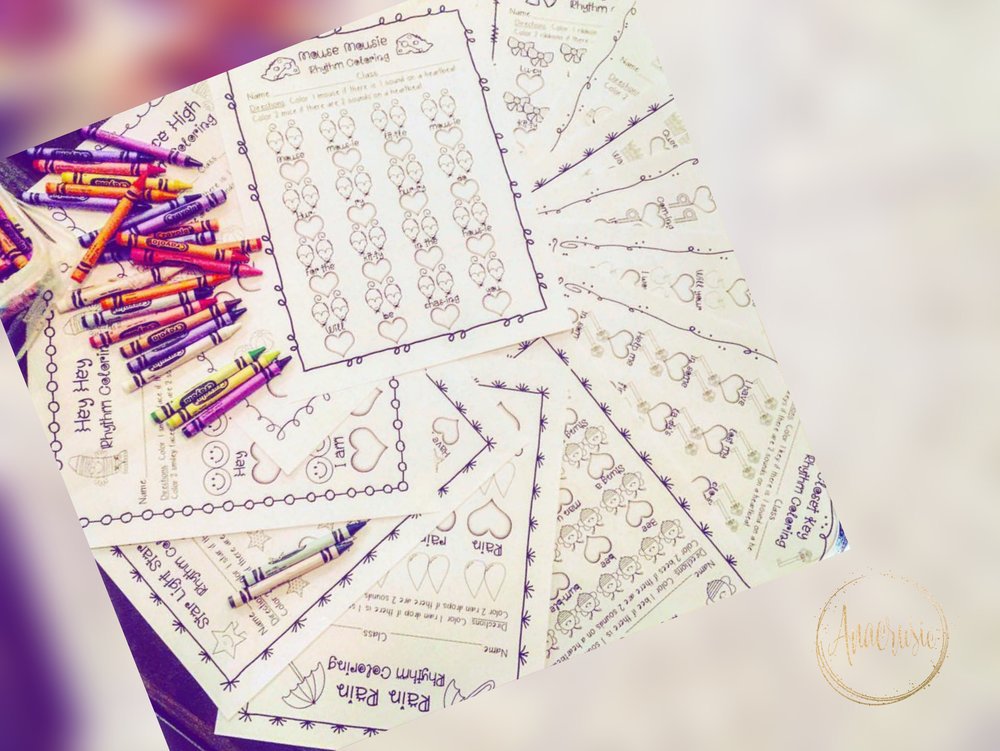 #2 – A Note from the Music Room
At my old campus, all of the specialists (Music, Art, P.E., & Library) took turns sharing what was happening in each of our respective classrooms. It was a brief, but effective way to give parents a little bit of information without completely bombarding them with #everylittlething that is happening in the day in and day out of the music room. It was just enough to feel connected.
This is probably the easiest way to start a direct communication line with parents. Not too much of a commitment, not solely on your shoulders, and creates a nice collaboration with your team! I highly recommend starting here if you're new to reaching out to parents on a consistent basis.
#3 – A Music Newsletter
Taking it up a notch, I know several folks who create a newsletter that is specific to their music room. This can be incredibly effective and tailor made to each class or grade level, or better yet, if you have a choir or other special performing group. Most folks send something like this out about once a month, and highlight some of the learning objects that students are discovering, and gives hints for opening up communication about music class at home.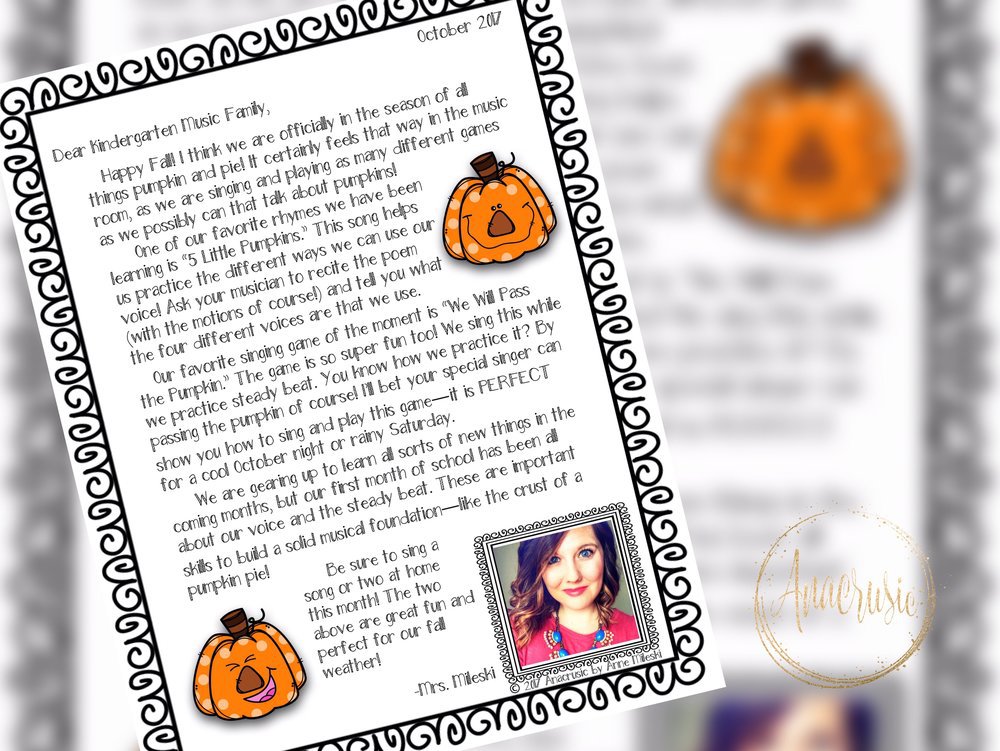 For a choir or other performance group that might have more frequent and time sensitive announcements, a weekly newsletter might be the way to go. Remember that no matter how often you are sending this out, you can do it digitally, or pass out a hard copy… or both. Because let's be real, the more modes of communication, the better!
#4 – Seesaw – The Secret Sauce
This past year, I completely fell in love with Seesaw. I didn't set it up for all of my classes, but I did a "pilot" version with one of the Kindergarten teachers at my building and it was amazing. If you aren't familiar with Seesaw, it's an app that serves as a classroom Facebook of sorts, where students and teachers can post videos, photos, and other things to the class page or to personal pages. Parents can log in and "like" and comment on things their child is doing throughout the day!
What made this really successful for me was being set up as a "co-teacher" in the classroom. What that means is the teacher I was collaborating with gave me access to her classroom (on my own account) and made a music folder for each student and the class. Throughout the year I posted individual videos of students solo singing (while I was assessing), and whole class videos of performances and super fun games we were playing. The kids loved it, and the parents really enjoyed having a look into the music classroom—something they don't get to do very often!
I'm hoping to dive even deeper into Seesaw this year, and hope to have some tips and tricks coming at you soon! Overall, I think this is probably the most effective way to communicate with parents on a regular basis. They can download the app on their phones and enable notifications (if they'd like) so they are always up to date! If their students have music once or twice a week and they see posts on Seesaw on a semi-regular basis, say twice a month, what a special way for them to feel connected!
---
And there you have it! We've finally come to the end of the Sparkle & Shine Back to School Series!! (It only took me two months…) I hope that you've found these posts useful and that there are a few tips or tricks that are either new to you or made you think a little differently. The goal for all of us is to always be learning and making our teaching practice a little bit better for our kids! Here's a recap of all the posts in case you missed anything:
Part V – IMPROVE parent communication (scroll on up if you somehow missed it!!)
All the freebies from this series (and more!) are in the Resource Library, so make sure you're all signed up to be an Anacrusic Insider so you have total access!