[et_pb_section bb_built="1″][et_pb_row][et_pb_column type="4_4″][et_pb_text _builder_version="3.17.2″]
I looooove holidays, especially in the elementary music classroom. There's something magical about celebrations with those sweet kiddos, and I always do my best to add in some seasonal flair where I can. Here are six of my favorite Halloween activities that don't require you to stop teaching everything to do. Oh no, there's some juicy music learning in each and every one of these!!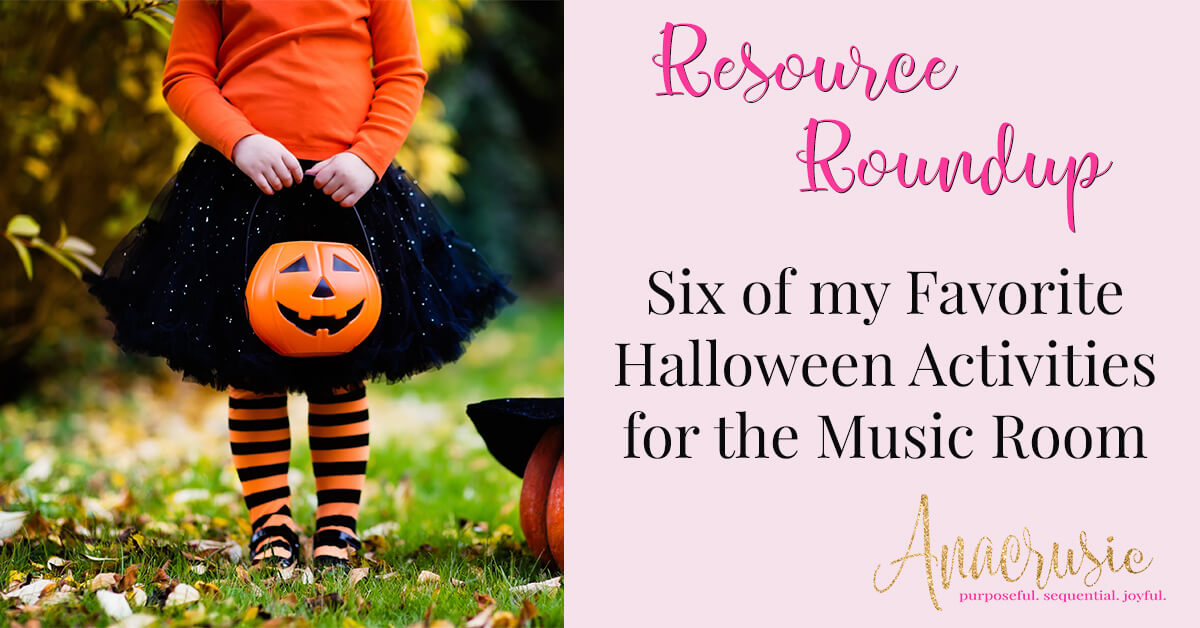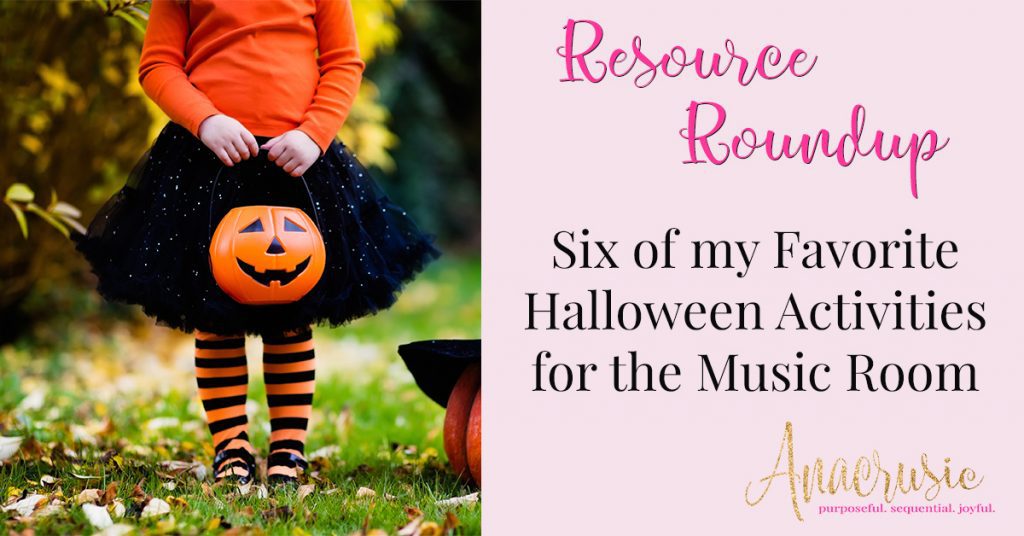 (1) Passing Games:
Passing games are always such a favorite of mine, especially around the holidays! I love using a seasonal or holiday object to make things a little festive! I learned "We Will Pass the Pumpkin" from another teacher colleague of mine when I first started teaching. Beyond that, I don't have a source (if you know one, please let me know!), because she said she's been singing it for years and years and years.
This game is super simple, and is a favorite of all of my students, whether they are kindergarteners or fifth graders!! It's simple enough–you simply take a pumpkin (I find a really small gourd version, or an artificial one from the craft store) and pass it around a seated circle to the steady beat. At the very end it speeds up, and whomever has it "when the music stops" is out! Take a listen below–the instructions are right in the song. (And remember: I'm a trumpet player by trade 😉 )
Important Note: the words also say "anyone is out if the pumpkin drops." We always have a very serious talk about who is the referee (ME) during this game. I always have the rule that if you don't pass the pumpkin, hand to hand, then you are out. If I see "air-time" (even a light toss or throw), that student is out. We always do a practice round before the game starts so that the rules are super clear.
I have another fun passing game song in the Resource Library for all my Anacrusic Insiders!! IT's called Jack-o-lantern! Click on over to check it out. 🙂
(2) Halloween Books
It's no secret that I absolutely love using books in the music classroom. I find that singing a story and finding books with a wonderful rhyme scheme or vocal exploration application really helps engage my students, along with encouraging participation with their singing voices! It's also a great way to incorporate seasonal themes, if some of your song repertoire doesn't necessarily lend itself to that.
(Full Disclosure: The links below are Amazon Affiliate links. Also, I talked about these four books in my Instagram live last week!! Did you catch it?! Follow me here so you don't miss the next one!!)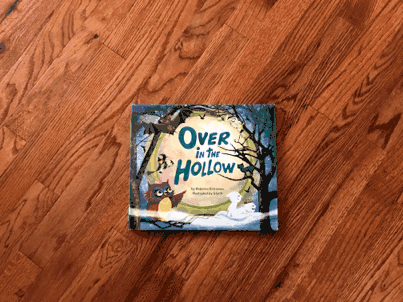 (I have to give credit for finding this ah-mazing book to one of my students at the American Kodály Institute!! Rachael, you are a rock star!!) If you do anything with the song "Over in the Meadow" in your classroom, this is an awesome book to pair with that! I could do a whole separate blog post on what the original song is good for (audiating tonic, rhyming words, phrasing, etc.) but just trust me that this is one of many variations that are in book form that you should add to your music book library! For bonus points, I sing it in minor.
This is my Halloween vocal exploration jam. I print out ghost icons on cardstock and laminate them so every student has a manipulative to play with during vocal exploration. You could also make tissue ghosts—just wrap a tissue over cotton balls and add two sharpie dots for eyes. There's no set "cue" for when to do different vocal explorations, but I just scatter it throughout this book. You can lead or have a student lead! Take advantage of the different ways ghosts make sounds to practice different vowel sounds and placements.
The Little Old Lady Who Was Not Afraid of Anything:
This is a gem. There are repeated sounds that reoccur throughout the story, such as "clomp clomp." Have your students pick unpitched percussion instruments to represent the sounds and help tell the story. (I personally think keeping "clomp clomp" with shoes is awesome—just make sure they can tie them up quick if there's a fire drill!! #beenthere #playedthatgame)
There Was An Old Lady Who Swallowed A Bat:
We all know the original song tale about the Old lady who swallowed a fly, right? There are about a million different variations out there. Do yourself a favor and get your hands on all these books. The kids love them, and you can have them audiate and sing cadences all the livelong day. #rhymingwords
(3) Five Little Pumpkins
This rhyme is an old standby, because it's good for SOOO many things!! (If you don't know it, just google it and you'll about a million different YouTube videos for it!) I don't use it as a song, but rather as a chant.
It's perfect for practicing four voices (speaking, singing, shouting, whispering), either with the whole rhyme one way or different lines as the different voices. It's also easy to add unpitched percussion to tell the story. My absolute favorite thing to do is to have students act it out in small groups. Get creative!!
(4) Trick or Treat Games:
I love doing different Halloween speech patterns this time of year. I've seen lots of super fun activities with different candies, but I prefer to use costumed characters! I made these trick or treat interactive games to review all the fun rhythms for Halloween!! Get them here. 🙂
(5) Halloween Listening:
There are so many fun pieces to use around Halloween time as listening examples! My two favorites are Toccata and Fugue & In the Hall of the Mountain King. Toccata and Fugue requires a bit more ahead of time planning, due to the form of the piece. There are some excellent listening maps out there that do an excellent job of outlining this form.
In the Hall of the Mountain King is the perfect steady beat and fast/slow comparative song for the younger grades. I like to lead a follow the leader steady beat movement game that glows in the dark! Find some fun glow in the dark gloves, give students glow sticks, and dim the lights!!
(6) Jack-o-lantern Song & Games!
Now if you're looking for something that gives a little Halloween taste with the main meal still practicing concepts on your curriculum map, this resource is for you. This group of presentations and games is everything you could need to practice so and mi in the month of October.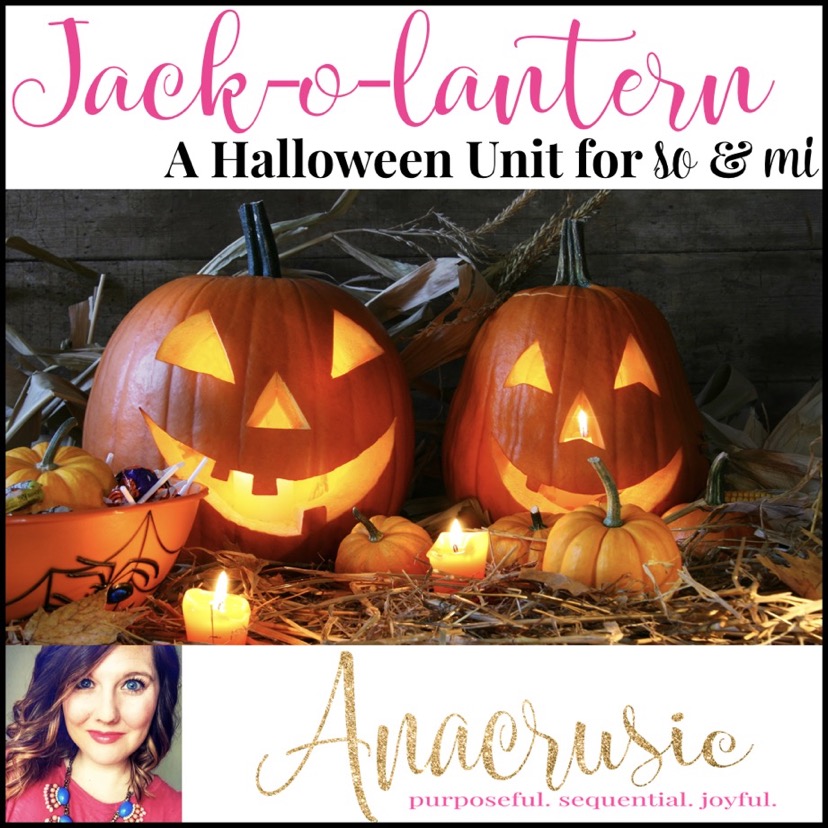 Have a Happy Halloween!!
Save
Save
[/et_pb_text][/et_pb_column][/et_pb_row][/et_pb_section]