It happens to all of us. We're tired, spring is upon us, and the kiddos are starting to get cabin fever. It's all too easy to fall into negativity, thinking about testing season and starting the countdown to spring (or summer!) break.
Last week, a lot of cheese was moved. I found myself slowly becoming part of the downward spiral and made a conscious decision to reframe my thinking. I absolutely love my job and am excited to go to work each and every day to make music with my kids. By remembering that one simple nugget of happiness, I was able to rewrite the narrative of my day.
Tonight, on this Monday eve, I challenge you to reframe. Channel your energy into the reasons you love what you do. Think about what brings you joy in the classroom, and choose it, every moment of every day.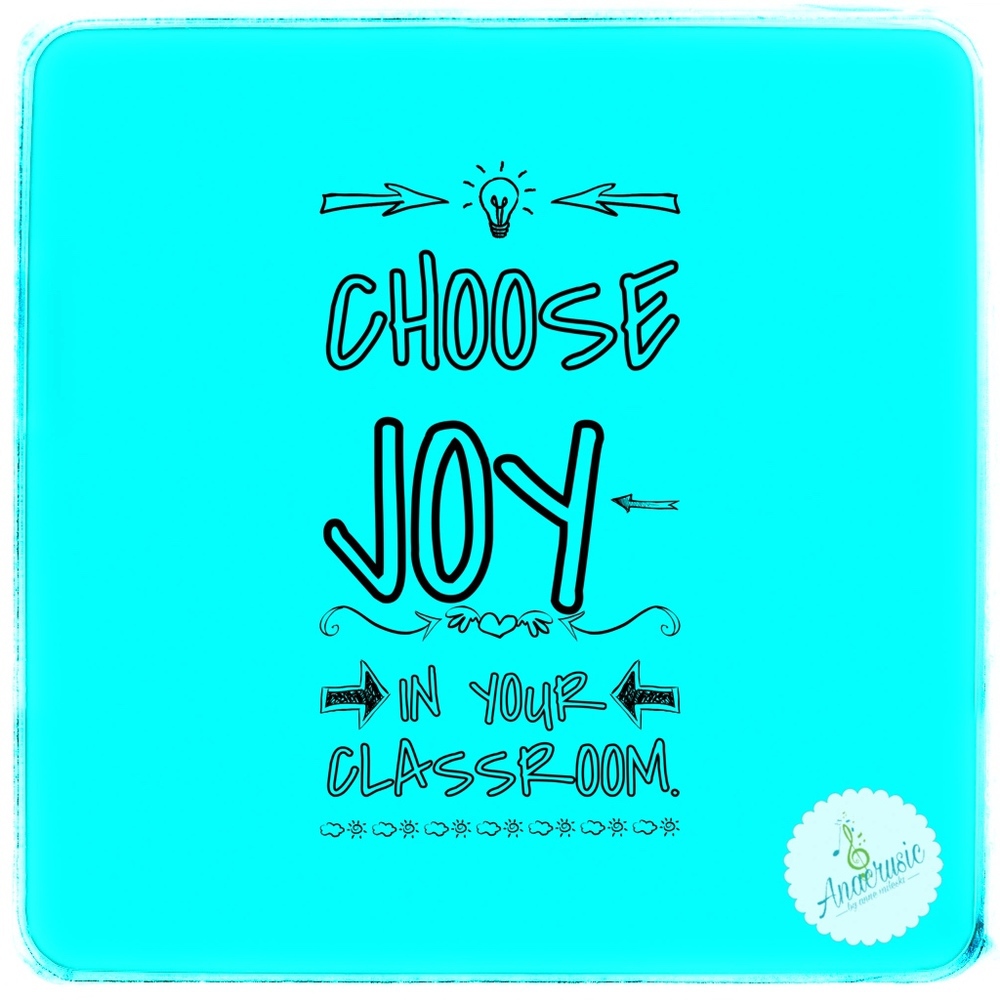 Teach the songs and activities YOU enjoy and are excited about.
We all have that one song we wish had never been introduced into the world of elementary music. As music teachers, we commit so many songs to our core lists, for use with many concepts throughout many grades. This means we have to love a song and activity enough to use it for many classes, often singing the same song several times a day, several days out of the year.
If you don't like it, don't use it.
Kids pick up on apathetic energy. They can also pick up on pure childlike joy. For example, a couple of weeks ago my kids learned "tim-ka." We used Shoo-fly for our present lesson, but I wasn't excited about any of my go-to practice songs to use as reading exercises afterward. So I created a brand new game for "tim-ka" practice that I was ridiculously excited about playing the next day. My kids totally bought in, and it ended up being one of their favorite activities all year.
You've heard it once, you've heard it a thousand times, but truly, if you're bored then the kids are too. Pick your favorite activities and songs to use in the classroom, and your students will feed off of your positive energy. If what you're doing isn't working for you or your students, even if it's working for everyone else, find or create something new.
Be a catalyst for positive change with students.
Last week, a class was dropped off with an ominous warning about a particular student. As you can imagine, that friend knew exactly what his teacher and I were discussing prior to music class, and he came in with a stone cold expression.
Rather than adding fuel to the fire, I wanted to find a way to pump him up so we could establish a more positive vibe before class began. I simply let him know, truthfully, that I had just been speaking with the principal about what a great job this student had been doing in the music room, and how I hoped we could make his day better by continuing to make good choices. He smiled, walked in, and was a shining example the entire class.
Not only did his teacher tell me the rest of his day was completely turned around, but the next day he was put into a time out and turned his behavior around immediately when it was mentioned he might miss music.
I could have easily bought into the predisposition that his teacher prepped me for, but I chose to change the negative to a positive. I appreciated the heads up, and I am glad that my class provided a reset button of sorts for my friend who was having trouble. My music room is not a "break" from learning, but it is a change of pace for students throughout the day, giving them a chance to start fresh when they come into my room, and again when they return to their grade level classroom.
Remember why you teach music.
My short anecdote above is one of the many reasons that I love what I do. But I didn't get into music because I wanted to be a teacher, I became a musician because of the way it makes me feel and the lifelong friendships I've made. To me, music is pure joy, and that's why I choose it.
It wasn't until I started teaching children that I realized teaching music could be even more joyful. Of course, I have a list of concepts I want each student to be able to demonstrate by the time they leave my room, and we have a state assessment about the different building blocks of music listening. Those are important things to show growth and exhibit student understanding. But the best reward for me is to see a game from my class played on the playground, or to hear a teacher sing one of my songs she learned from her class. That's how I know my students and I are truly choosing joy.